Cryogenic Ball Valve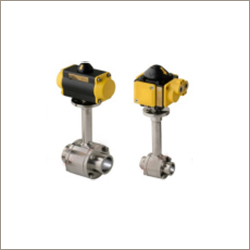 Cryogenic Ball Valve
Product Description
PURPOSE JD Controls has the quality solution for tough applications involving all types of cryogens; oxygen, hydrogen, methane, ammonia, nitrogen, fluorine, LNG, Acid Transfer, Electronics, General Industries and deuterium Wastewater Collection and Treatment, Food Processing.
DESIGN The JD Series 2-Piece 3-piece, 2Way, multiport (3 Way,4 way )cryogenic Valves range is designed for cold temperatures, all the way down through the refrigeration to cryogenic range.
The leak-proof integrity of the valve is further enhanced by a welded bonnet design and Chevron V-ring packing, which can be adjusted by a simple turn of the stem nut.
FEATURES -
Positive ball cavity relief to prevent dangerous overpressure due to thermal expansion.
Pressure safe stem assembled inside the body for blowout prevention and matched to the ball for positive flow direction indication.
Effective bonnet extension conforms to industry standards for wall thickness and lengths reducing heat transfer and frost free packing.
High performance/low thermal stress design of valve parts assure tight shutoff,zero body leakage and low torque
Fire safety design with the stem seal design utilizing double graphite seals for fire tight operation. This is especially effective in hydrogen and LNG systems.Modified characteristics for better control
Non-extended-stemavailable ,Quarter turn high flow capacity,Manual and automated performance,Throttling control with CPT seat design,High quality clean room assembly and testing.
Fire safe design,Blow-outproof-stem,Floating stem seal design to tolerate different rates of thermal contraction and expansion Ability to seal at cryo temperatures
Specification :
Size-Range-..............1/4"-12"-(DN6-DN300)
Series in range ............. Standard Bore C47C, C31C, C32C Full Bore CB47C, C73C, C74C, C77C, C78C
Applications ................... LNG, Metallurgy, Technical & Specialty Gas. Food, Processing, Rubber production, Medical, Solar Panels Production, Transportation, Automotive, Chemical, Electronic & Space Industries Cryogenic Service, Cryogenic Dense Fluid Expanders, Industrial Plant Services, Liquified Gas Industry Service, Metal and Steel Industry, Mineral Processing, Mining, Oxygenates Production, Pharmaceuticals, Separation, Sewage, Water Treatment, CO2 Injection, Component Cooling, Effluent
Service ............................ LNG, Nitrogen, Oxygen, Air, Hydrogen, Helium, Argon, Methane, Germane and others
Pressure range ............ Vacuum to 300 bar (4350 psig) Higher Pressure upon Request
Temperatures................ -268.9C to 230C (-452.1F to 446F)
Materials ......................... Stainless Steel, Brass ( Internals), Monel, Other Material upon request
End Connection............. Butt weld, Extended Butt weld, Screwed, Socket weld ( up to 2.5"), Flanged, Custom EndsPiping Schedules
Operation ........................ Hand or Gear operated, Pneumatic, Electric, automatic operation
Class 150#,300#800#
Trade Information
Yes

Within a certain price range free samples are available