Fire Safe Ball Valve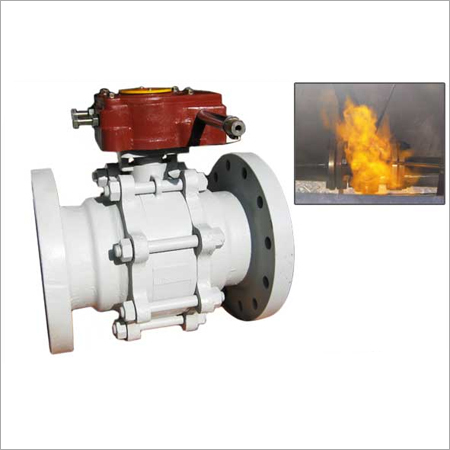 Fire Safe Ball Valve
Product Description
Fire Safe Ball Valve

Depending upon our sophisticated manufacturing facility, we are able to manufacture, supply and export superior quality range of Fire Safe Ball Valve. This safe ball valve is leak resistant, corrosion resistant and easy to maintain & install due to which it is highly appraised among our clients at global level. Fine Safe Ball Valve is manufactured using high grade quality components sourced from the reputed vendors of market. We offer this range of ball valve at industry leading prices.
Our company offers fire safe ball valve that is designed and made in compliance with API standard in reduced and full port along with blown out safe stem as well as antistatic device with different alternatives of working.

Trunnion and Floating Mounted
Both floating and trunnion mounted fire safe ball valve is provided by our company. In the drifting ball plan, where fixing happens by permitting the Ball below weight to change place towards the down seat to impact tight seal. Further, for elevated pressure and sizes appraisals ball valves of trunnion mounted are favored by industry.

Valve Working
Our fire safe ball valves are normally provided with Gear Operated or hand-operated Hand Lever, contingent upon valve measure. It is available with either Electrical actuator worked for mechanization or Pneumatic (Single Acting/Double Acting Spring Return).

Variety Of Body Seat, Packing And Seal
Our product is additionally accessible with various sort of Seat, packing and Seal material, for example, P.T.F.E. (pure)/Carbon Filled (PTFE)/PEEK/Glass Filled (PTFE)/ Graphite (grafoil) to meet particular demand of customer.

Striking Features:

Blowout safe Stem
Anti Static Instrument
Fire Protected Seat Design
Twofold Body Sealing makes sure Positive structure Joint fixing from Pipeline tensions
Different Stem Sealing
Live stacked Stem plan matches vigorous Fugitive Norms
Particularly outlined seals and seats in an assortment of materials to meet particular usages
Fire Protected outline Affirms to API 607
Valves are fire safe and tested ensured by Bureau Veritas.
Plan standard API 6D, ANSI B16.34 and BS EN ISO 17292
Valves with Lengthy Stems and for Underground Applications , Multiport Fire secured Ball Valves, and so on, additionally accessible on demand.

Design & Testing International Standard:

Valve Design: BS EN ISO 17292 (BS 5351) / API 6D / ASME B 16.34 / BE EN ISO 12516
Pressure Testing: API 598 / API 6D / BS EN 12266 I
Fire Testing: API 607 / BS EN ISO 1266 II
Face To Face: As Per ANSI B 16.10
Flange Drilling: ANSI B 16.5, Raised Face, Class 150 / 300 / 600
Screwed End: ANSI B 1.20.1 (BSP/NPT)
Socket Weld End: ANSI B 16.11
Butt Weld End: ANSI B 16.25
Quality Assurance:ISO 9001


Material of Construction:

Body / End Connector Piece:

Cast Carbon Steel to ASTM A 216 GR. WCB
Stainless Steel to ASTM A 351 GR. CF 8 / 8M / 3 / 3M
Hast Alloy B / C
ASTM A 351 GR. CN 7M (Alloy 20)

Ball:
Stainless Steel to ASTM A 351 GR. CF 8 / 8M / 3 / 3M
Hast Alloy B / C
ASTM A 351 GR. CN 7M (Alloy 20)

Stem:
AISI 304 (S.S. 304)
AISI 316 (S.S. 316)
AISI 304L (S.S. 304L)
AISI 316L (S.S. 316L)
Hast Alloy B / C
Alloy 20

Ball Seat / Gland Seal / Stem Seal:
P.T.F.E. Glass Filled
P.T.F.E. Carbon Filled
Grafoil / Graphite Ring
P.T.F.E. Virgin
Size

Inch

1/2

3/4

1

1 1/2

2

2 1/2

3

4

6

8

10

12

DN

15

20

25

40

50

65

80

100

150

200

250

300

L-F to F-Short

107.9

117.3

127

165.1

177.8

192

203

229

267

292

330

-

L1-F to F-Long

-

-

-

-

-

-

-

-

394

457

533.4

609.6

G-NB

12.5

19

25

38

50

63

75

100

150

200

250

300

D

89

98.5

108

127

152.6

177.8

190.5

228.6

279

343

406

483

E

60.3

69.8

79.3

98.4

120.6

139.7

152.4

190.5

241.3

298.4

362

431.8

F

35

43

50.8

73

92.1

104.7

127

157.2

215.9

269.9

323.8

381

N

4

4

4

4

4

4

4

8

8

8

12

12

O

15.8

15.8

15.8

15.8

19

19

19

19

22.2

22.2

25.4

25.4

T

10.2

10.5

11.2

14.5

15.8

17.5

19

23.8

25.4

28.4

30.23

31.75