Jacketed Ball Valves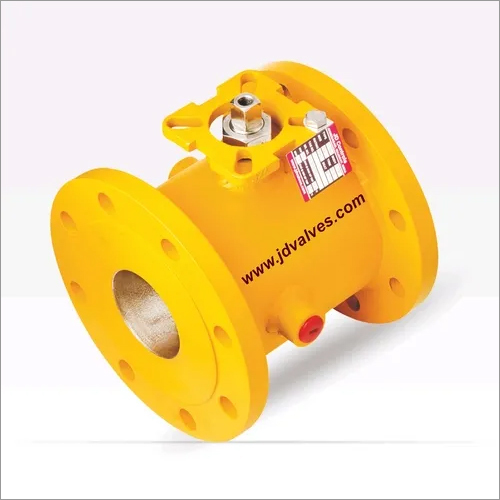 Jacketed Ball Valves
Product Description
Since 2001, we have been manufacturing, exporting and supplying a high class array of Jacketed Ball Valves to our clients at reasonable rates. These valves are manufactured with utmost precision by a team of dexterous professionals using quality assured metal-alloys at our sophisticated production unit. These valves are used for controlling the flow and pressure of various kinds of fluids in hassle free manner. Available in various specifications, these Jacketed Ball Valves are widely demanded in chemical industry, pharmaceutical sector, water treatment plants etc.
Key points:
Corrosion resistance and light in weight

Easy to handle owing to their smooth surface finish

Withstand high temperature and pressure

Fast opening and closing operations

Can be used both ways without any trouble
Further Details:

Our business provides a scope of Fully Jacketed Ball Valves that covers the structure from one rib to the next flange. Body is adjusted by including oversize spines. As illustration: 2" x 3" of our product has the ostensible drill of 2" (DN 50) as well as the rib extent is 3"(DN 80). Moreover, it permits enough area for bolting clearance.
Jacketed ball valves, guarantee steady valve cooling or heating of the procedure medium to avert seizing or crystallization of circulation media. It is exceptionally well outlines to help the elevated temperature oil flow or steam over the body parts of valve ball and valve ball itself to maintain the media fluid. This uses particularly to medium such as liquid sulfur and bitumen. Also, the proficient circulation of media is guaranteed through the removal of pockets.
Vapor, can be utilized as bearer for warming media. After quality affirmation principles, each valve is tried again following the Jackets are being soldered to body of the valve. Jacket air and hydraulic examined is done at 6000 grams per Cm2.
Typically, our jacketed ball valves are provided to the customers in carbon steel as well as in various sorts of stainless steel items. Other unique materials are additionally accessible upon particular demand.

Design & Testing International Standard:


Size Range: " x 1" To 8" x 10"
Valve Design: BS 5351 / ANSI B 16.34 / API 6D
Pressure Testing: BS 6755 Part II / API 598 / API 6D
Face To Face: As Per ANSI B 16.10
Flange Drilling: ANSI B 16.5 / BS 10 Table / DIN / IS 6392

Material of Construction:

Body / Insert:
Cast Carbon Steel to ASTM A 216 GR. WCB
Stainless Steel to ASTM A 351 GR. CF 8 / 8M / 3 / 3M

Ball:
Stainless Steel to ASTM A 351 GR. CF 8 / 8M / 3 / 3M
Hast Alloy B / C
ASTM A 351 GR. CN 7M (Alloy 20)

Stem:
AISI 410 (S.S. 410 13% Cr. Steel)
AISI 304 (S.S. 304)
AISI 316 (S.S. 316)
AISI 304L (S.S. 304L)
AISI 316L (S.S. 316L)
Alloy 20
Hast Alloy B / C

Ball Seat / Gland Seal / Stem Seal:
P.T.F.E. Virgin
P.T.F.E. Glass Filled
P.T.F.E. Carbon Filled
Grafoil

Jacket Material:
S.S. 304, S.S. 316, S.S. 304L, S.S. 316L
M.S.
TECHNICAL SPECIFICATIONS:
Dimensions (150 class) All Dimension Are in mm
| | | | | | | | | | |
| --- | --- | --- | --- | --- | --- | --- | --- | --- | --- |
| Size | 15x20 | 25x40 | 25x50 | 40x65 | 50x80 | 65x100 | 80x100 | 100x150 | 150x250 |
| LF to F | 127 | 165.1 | 177.8 | 192 | 203 | 229 | 229 | 267 | 330.2 |
| G-NB | 12.5 | 25 | 25 | 40 | 50 | 63 | 75 | 100 | 150 |
| D | 108 | 127 | 152.4 | 177.8 | 190.5 | 228.6 | 228.6 | 279 | 406 |
| E | 79.2 | 98.5 | 120.6 | 139.7 | 152.4 | 190.5 | 190.5 | 241.3 | 361.95 |
| F | 50.8 | 73 | 92.1 | 104.7 | 127 | 157.2 | 157.2 | 215.9 | 323.08 |
| N | 4 | 4 | 4 | 4 | 8 | 8 | 8 | 8 | 12 |
| O | 15.8 | 15.8 | 19 | 19 | 19 | 19 | 19 | 22 | 25.4 |
| T | 11.1 | 14.3 | 15.8 | 17.7 | 19 | 23 | 23 | 25.4 | 30.23 |