Slurry Valves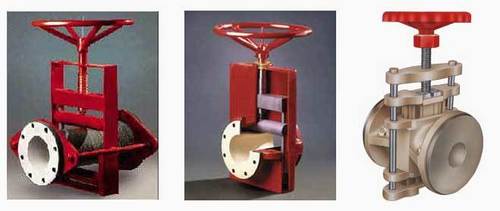 Slurry Valves
Product Description
Under the exemplary leadership and guidance of our expert professionals, we have been able to emerge as a trusted manufacturer and supplier of Slurry Valves. We manufacture these valves using best quality cast iron and aluminum. Reinforced seats guarantee shape and position in the bore during operation improving the stability and performance. These valves are used in cement, mining and construction projects. Slurry Valves are used to handle tough and abrasive shut off applications involving slurries, powders or granular substances. We offer these valves at reasonable prices.
Features:
Robust construction
Easy to install
Resistant to high pressure
Further Details:

Cast Iron and aluminum body, Slurry Valves possessing Rubber sleeves are additional hefty with complete covering spines anticipating erosion on body as well as four fortified pulling lugs for affirmative working. The sleeve is inside totally strengthened, therefore, our valves are having unique bolt nut instrument on wheel for premium fixing in shut position, limiting additional perpetual weight on sleeve, developing the life transverse of sleeve. Bolt nut provides sleeve fixing setting.

The sleeve is inside totally strengthened, which tolerate constant working. It is additionally planned, which will hold intact roundness in complete vacant location providing total circulation of pipe line.

Valves are glandless and fullway-seatless, Hefty Duty expendable Elastomere sleeve. Four strengthened pulling lugs offer definite and positive outcomes in closed and open position, averts sleeves from crumple even in void complete secured flanges shields from rust impacts. Our slurry valves can be penetrated to BS 10, IS, DIN or any standard.

Our valves consolidates all the altered outlines grounded on our incomprehensible experience in the domain. Valves are of finished solid development to manage different corrosive and abrasive fluids.

Characteristics:

Straight Full Circulation. No Fluid Pounding
Can Tolerate 8 Kg/Sq Cm Operating Pressure
Utility In Void Upto Direct Pressure
Impeccable Fixing Even On Entangled Solids
Can Deal With Most Abrasive And Corrosive Materials
Integrated Flange Gaskets
Just Expendable Components- Elastic Sleeve !!
Broke Casting Guarantee Fast Handling
Hefty Duty Aluminum Alloy And Graded Cast Iron
SLEEVE AVAILABLE IN: L Neprene, Natural, Butyl, Hypalon, Viton. E.P.D.M. Or Special Suit Services.

Face to face Lengths: As per conventional Diaphragm Valves.
Materials to Handle :
Chemicals, Alkaline Mixtures
Viscous Fluids
Sludges
Gramles
Acids, Slurries & Intermediates
Liquid Foods
Dry Suspension
Powder Collectors
Gases
Application Industries :
Vacuum Sewage Plants
Thermal P0wer Stations
Water containing ash
Pharmaceuticals
Textile Industry
Mining & Cement Industry
Acid & Chemicals Tankers
Refineries
Fertilizers
| | | | | | | | | | | | |
| --- | --- | --- | --- | --- | --- | --- | --- | --- | --- | --- | --- |
| Size in mm | 25 | 40 | 50 | 65 | 80 | 100 | 125 | 150 | 200 | 250 | 300 |
| L | 133 | 152 | 197 | 222 | 265 | 311 | 362 | 412 | 527 | 640 | 760 |
| H Open | 176 | 216 | 246 | 279 | 323 | 379 | 460 | 508 | 612 | 733 | 860 |
| D Dia | 120 | 140 | 165 | 185 | 203 | 229 | 279 | 305 | 368 | 432 | 480 |